NEW VOCAL TRADITIONS
Since 1970 folk song has come to have an increasingly important position in stage performances of folk music and (as in instrumental music) it is possible to name certain trend-setters in the modern folk song tradition.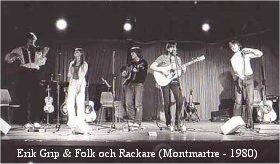 Early pioneering contributions were made during the 1970s by the group Folk och rackare (picture), who arranged songs and ballads to the accompaniment of a folk instrument ensemble. Folk och rackare can be seen as a kind of starting point for a tradition which has been confirmed during the 1990s by Lena Willemark's interpretations of ballads, for example. A comparison between Folk och rackare's LP Stjärnhästen (The Star Horse) from 1981, and Willemark's and Möller's CD Nordan (The North Wind, 1994) shows obvious similarities in tone and moods. The development continues through the 1990s and traces of Folk och Rackare can be heard in many folk music groups today.

Folk och rackare 1981: För redeliga män. Från 'Stjärnhästen' (SLPCD2691)

Frifot 2003: Balladen om den förtrollade. Från 'Sluring' (AMCD751

Nowadays it is possible to study folk song at the Royal College of Music in Stockholm. The increased interest in folk song has led to new contributions to the Swedish folk music scene, as for example folk music-singing in parts.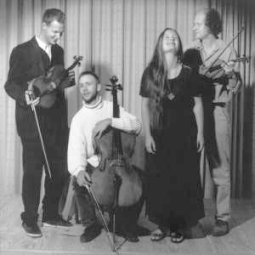 The folk music group Rotvälta (picture), with Susanne Rosenberg, Sven Ahlbäck and Mikael Marin, has been one of the trend-setters during the 1980s and 1990s, not least in the field of folk song. On the CD I Österled (In The East) they present music from the Swedish-speaking regions of Finland. The most interesting tunes are possibly those after Alfred Lindroos (1859-1938) and Johannes Andersson (1864-1916) from the island of Stor Pellinge off the south coast of Finland. In Stor Pellinge there was a tradition of two-part folk singing from the turn of the century, a form which does not exist in any other Swedish-speaking region.
De rosor och de blader and En sjöman promenerade. Rotvälta 'I Österled' (UTCD9501)

The Swedish composer Karin Rehnqvist's (picture) use of folk music, and in particular of special folk song techniques (for example kulning, a high-pitched form of singing used by women in the grazing pastures in the mountain regions of Dalarna), in Davids Nimm (1984) and Puksånger — lockrop (Timpanum Songs — Herding Calls, 1988), can be seen as a confirmation of the new status of folk song and of a new, sensitive way of using folk music in art music.
Davids Nimm. Karin Rehnqvist (PSCD85)
Considerable changes have taken place in folk music education during the last decades. Well-qualified teachers who also have a reputation as skilled performers are involved in systematic activities designed to attract young folk musicians and give them practical knowledge of style, technique and repertoire. This role of professional advisor is a new, institutionalised function in Sweden's folk music world. Through these teachers the repertoire and style of playing of Pers Hans and Eric Sahlström, for example, have been conveyed to many more musicians (and thereby more listeners) than was conceivable in earlier times.