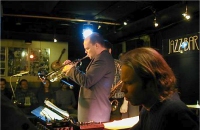 Trumpeter Anders Bergcrantz (photo: Pentti Ronkanen ) (b. 1961) from Malmö has also played with many Danish groups in Copenhagen as well as fronting bands of his own; his American quartet has appeared at famous jazz venues in New York City. Alto and soprano saxophonist Håkan Broström (b. 1955) is not only a noted soloist and leader of his own group but also an excellent composer.


Anders Bergcrantz: Jumping Emil (1999) from Twenty-Four Hours
[Dragon DRCD 312]

Numerous younger musicians, such as trumpeter Peter Asplund (b. 1969) and alto saxophonist Johan Hörlén (b. 1967) play music in the wide field of modern mainstream. Pianist Jan Lundgren (b. 1966) has collaborated with several musicians from previous generations. The main part of his wide range of activities consists of a trio with bass and drums which plays music firmly rooted in jazz tradition, while at the same time making successful explorations into material that is significantly Swedish, ranging from folklore to pop music.



Pianist Åke Johansson (b. 1937) is one of many musicians from the older generation who maintain the musical language of their younger years. He is a member of the group CBQ (Contemporary Bebop Quintet), which also includes tenor saxophonist Stefan Isaksson (b. 1956). One of the foremost soloists in this style, tenor saxophonist Krister Andersson (picture) (b. 1951), is also one of the most frequently recorded. He began his musical career as a clarinettist in the classical field, appearing as a soloist and in chamber music groups, and he still uses the clarinet occasionally in jazz contexts. Another well-known soloist is baritone saxophonist Gunnar Bergsten (b. 1945), who is featured with several groups as well as fronting his own quartet.

Krister Andersson: Sightseeing (1993) from About time [Flash Music FLCD1]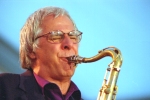 Trumpeter Gustavo Bergalli (b. 1940) from the Argentine and saxophonist Hector Bingert (photo: Bo Flodin) (b. 1944) from Uruguay are two of many immigrants who have made their mark on the Swedish jazz scene. Bergalli is a noted soloist in the hard bop tradition and he has also combined tango and jazz. Bingert fronts his own group, Latin Lover, and in recent years he has also had his own big band. He has played jazz which is strongly influenced by candombé and other Latin-American styles. American pianist Steve Dobrogosz (b. 1956) is another "jazz immigrant" whose artistic range encompasses choral and chamber music as well as pop music. He has perhaps been most successful as the writer of lyrics and songs, which he has performed and recorded (mostly in duo settings) with singer Berit Andersson (b. 1953) and others. Since 1954 Norwegian drummer Egil Johansen (1934-98) was living in Sweden, working in many of the leading jazz ensembles of this country and also fronting his own bands.

Hector Bingert: Immigranttango (1997) from Latin Lover Big Band
[Arietta ADCD 16]